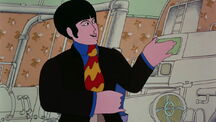 James Paul McCartney, also known as Paul McCartney, is one of four main protaginists in the film "Yellow Submarine" which was originally made in 1968 and was re-made in 2012. Paul is the 2nd youngest beatle in the film at age 26. 
From Yellow Submarine:
"What's the matter fellas? Blue Meanies?"-When Paul enters
"Senile delinquents."-during the part when they all grow beards.
"Groovy! How do you start this thing?"-Asking Old Fred about the submarine
"You mean, you haven't composed, a 'hole' book?"-In the Sea of Holes
From the comic version:
"I brought a thaw from my tool kit!"-When they're trying to thaw Ringo
"Will it hurt?"-When the barber gives Paul a moustache and wants to shave it off
"Hey! How do I get back to those indians? I'd rather take my chances with arrows!"-In the Sea of Cinema
"This is no time to plug your songs!"-When George makes a reference to an actual Beatles song
Ad blocker interference detected!
Wikia is a free-to-use site that makes money from advertising. We have a modified experience for viewers using ad blockers

Wikia is not accessible if you've made further modifications. Remove the custom ad blocker rule(s) and the page will load as expected.