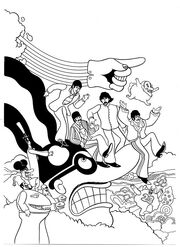 Yellow Submarine
was a planned comic book to be published by Dark Horse Comics. It was illustrated by Bill Morrison colored by Nathan Kane, and lettered by Chris Unger, all of whom worked together on
Simpsons Comics
.
It was to be a 48-page one-shot comic book, but was scrapped halfway through.
Unlike the original Gold Key version, this version was to be true to the movie, the dialogue being mostly intake.
A finished version will be released for the 50th anniversary of the film in 2018.
Dark Horse Comics asked Bill Morrison, who was a Beatles fan, to produce a comic book adaptation that would coincide with the DVD release of Yellow Submarine. Morrison brought in Nathan Kane and Chris Unger, friends from Bongo Comics, and had his wife Kayre help him write out the transcript using the VHS tapes.
Dark Horse gave him few creative instructions, which allowed him to draw it in his own style. For reference, Morrison found a book filled with pictures from the film, and publisher Mike Richardson loaned him a copy of the original Gold Key comic.
Despite having 26 pages penciled and inked (most of which lettered) and about ten pages colored, Apple Records decided to back out of the deal.
The comic is being completed and will be released as a 128-page Graphic Novel in late August 2018 for the 50th anniversary of the movie.